Monday, March 03, 2014 • •
baby style file reviews...t

he

magnatab free play...
I have a confession to make, when I am sent toys to review I always have a little play with them before I give them to the toddler. Not because I'm mean and rubbish at sharing, but because I like to preempt any potential problems. When I opened the Magnatab Free Play (kindly sent to me by VUPbaby) my initial thoughts were, nice concept but sure to frustrate....Oh how very, very wrong I was! Quite frankly this has been a massive hit with the toddler, the toddler's friends and even the toddler's cousins (aged between 7 and 16).
Let me explain. This toy is a bit like a less annoying, easier to use etch-a-sketch....lots of tiny metal balls that you can 'draw with' using the magnetic stylus...the balls then disappear if you give them a little push (or for super-fast erasing you can give them a rub with the side of stylus). I originally thought it would be a cause of frustration as the stylus isn't massively accurate so you have to spend a bit of time pushing the balls back in. And if you draw something lovely and hold it aloft to proudly show everyone, the balls all fall to the surface and your masterpiece is left looking a little the worse for wear...I was also certain that the stylus would get lost and that would be the end of that, but honestly, none of these things have been an issue with anyone (except me...this probably says a whole lot more about me and my personality than anything else). In fact this toy has been a rip-roaring total success. It's perfect for mess-free drawing, pattern making and writing practice...(and even more perfect because it easily fits in a bag and keeps the toddler happily occupied when out and about and waiting in cafes.) Plus it looks nice, so double win!
magnatab free play by kido, £22.95, VUPbaby *for 10% off enter STYLE at the checkout*
[please note: I did get to keep this product]
- - - - - - - - - - - - - - - - - - - - - - - - - - - - - - - - - - - - - - - - - - - - - - - - - - - -
baby style file reviews...play food...
Play food for children comes in all shapes and sizes, some of it I find a bit puzzling (kebabs and fast food, really??) but mostly it's an excellent way of discussing food as well as playing with it.

This playset of food kindly gifted to me by Mini Wardrobe has been really brilliant and very well used. Ignoring the fact that it comes in a not quite so lovely shopping bag, the contents are truly great. All the essentials are covered; a bottle of milk, a fish, a strawberry, a tomato, an apple, a potato, a carrot, a piece of cheese and an egg - all soft, squishy and crafted from cotton with excellent attention to detail (I find the strawberry seeds and tomato stalk particularly pleasing).

This set combines nicely with a set of wooden cutting fruit and vegetables and is perfect for any well-stocked play kitchen or even a (healthy) teddy bears' picnic.


[please note: I did get to keep this product]
- - - - - - - - - - - - - - - - - - - - - - - - - - - - - - - - - - - - - - - - - - - - - - - - - - - -
baby style file reviews...the half pint garden...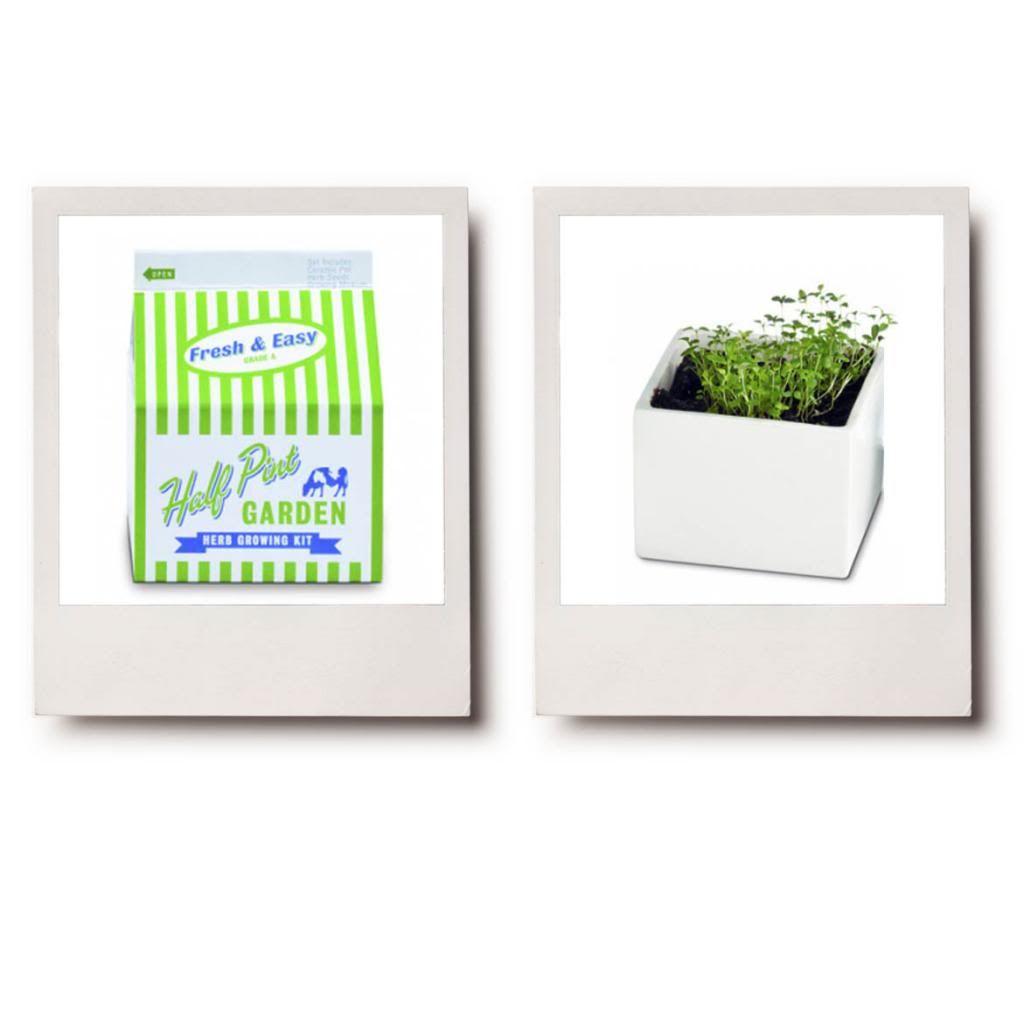 If you thought that cooking with kids was a great way of getting them to try new things, just imagine what might happen if you took it one step further…you could grow the food and then cook it! (If you're three years old this is mind-blowing stuff). You don't need to be a whizz in the garden (personally, I only have a talent for growing weeds) - in truth, you don't even need a garden, just a sunny windowsill, a yoghurt pot and some cress seeds. But it's much nicer if things stay tasteful, because who really wants to look at an old yoghurt pot, day-in and day-out? Trust me, its charmingly homespun appeal soon wears off.

It was at this point that The Balcony Gardener saved the day. They asked if I wanted to have a go at planting the Half Pint Garden with the toddler, and the thought of replacing the slightly battered yoghurt pot that was currently sitting in my kitchen seemed like a marvellous plan.

This cheerful milk carton packaging contains a plain white ceramic pot, complete with a peat pellet and three small packets of seeds (basil, mint and thyme). A most excellent activity for rainy days and dark afternoons…simply pop the peat pellet into the pot, add water (although probably best not to add it all in in one go like the toddler did) and poke it with a stick unit it resembles soil (we used the end of a paintbrush for this). Then add the seeds. The toddler being a typical impatient three-year-old wanted to grow everything at the same time. Now the challenging bit…waiting. And waiting. And waiting. Turns out that growing anything other than cress takes a bit more than a day. But low and behold the toddler is being remarkably patient about the whole thing and like a responsible parent he visits the pot at least twice a day to see how his growing shoots are doing, he waters it, strokes it and usually spills some of the soil on the floor in all the excitement. But the most charming bit….he proudly shows every house visitor his plant and he has given it pride of place on top of his play kitchen.

Two weeks on and a cluster of shoots have grown (although I'm still not sure what herb they're going to be when they grow up!) To be honest, at this point I don't really care as the process has been so rewarding.
[please note: I did get to keep this product]
- - - - - - - - - - - - - - - - - - - - - - - - - - - - - - - - - - - - - - - - - - - - - - - - - - - -
baby style file reviews...my carry potty...
Potty training and the many issues it brings with it has possibly been my least fun part of having a child – and I had a baby with severe reflux so this is saying quite a lot. Despite what all the books say (in my experience) you can't do potty training in a week. Once you lose any expectation of this happening and accept that it might actually take you a few months, things do get a bit easier.

To ease my pain, VUP baby asked if I wanted to try out the 'My Carry Potty' and, desperate to try anything that might help, I jumped at the chance.

The 'My Carry Potty' seemed like a great compromise between a standard potty and the fold-up travel variety (of which I have tried both), plus the toddler immediately took ownership of it and insisted on carrying it himself (result!)

The potty is a bit like a lunch box (although please promise me that you'll never use it to carry your sandwiches in) - it opens to reveal a built-in potty and snaps shut with an airtight and leak-proof seal. Although the thought of carrying a full potty around with you doesn't sound that great – it's actually quite handy when you're out and about and unable to empty it (perfect for long car journeys). It also makes the whole thing a bit quicker to deal with as you just shut the lid and go (although don't forget the wet wipes and hand sanitiser).

For convenience the 'My Carry Potty' is great and gets a big thumbs up from me. I do however wish it was a little bit larger – the toddler is a boy and I think that the potty is perhaps better suited to the anatomy of a girl (we have had a few messy accidents along the way due to bad positioning!). I have also found that it is easier to use if you position it on the edge of a kerb so that your child can use the extra height of the pavement to put their legs down – as due to its portable size it sits closer to the ground than a traditional potty and ends up in a legs straight out situation which is just a bit trickier to manage.

Despite this I still think it's a really useful thing to have (and useful beyond the potty training months too) – we now keep ours in the car ready to use at a moment's notice when you hear those fearful wails of 'mummy I need a wee' as you're speeding down the motorway.

So to all you parents going through the joy of potty training at the moment, stay strong (start a reward chart for yourselves) and get yourself some equipment to make it a bit easier. Also remember it's not a race, everyone gets there in the end and no one wees on the floor in the office.
my carry potty, £24.99
, VUPbaby
*for 10% off enter STYLE at the checkout*
[please note: I did get to keep this product]
- - - - - - - - - - - - - - - - - - - - - - - - - - - - - - - - - - - - - - - - - - - - - - - - - - - -
baby style file reviews...the picos pack...
When I was searching for the perfect changing bag whilst pregnant with number one, I struggled to find any that weren't brightly coloured and scream 'I am a baby changing bag'. Aside from it being a question of personal taste, I also didn't like that most of them weren't husband-friendly (try getting your other half to carry an oilcloth polka dot bag). We ended up throwing the mat from our changing bag into a normal rucksack along with the wipes, nappies, snacks and drinks – and spent most of our days out rummaging around in the rucksack trying to find various things!
PacaPod very kindly offered me one of their bags to try out upon the arrival of baby number two, and as they describe their bags as a 'baby organising system for busy mums' I jumped at the chance. Each bag comes with separate 'pods' inside so you can separate your nappy changing bits from your bottle and snacks, and quickly find what you need.

The Picos Pack is a rather brilliant baby changing backpack, it comes with a changer pod (for nappies, wipes and bags), a fully insulated feeder pod (holds up to 4 bottles, keeps warm for up to 3 hours) and a padded baby-changing mat.
First real test of the Picos Pack came with our first trip out as a family of four (we didn't go wild – just an afternoon at the park). All the changing bits and pieces fitted in the changer pod with space to spare, and we used the feeder pod to store some snacks for my eldest – the insulated lining kept the fruit nice and cool.
As my eldest is football crazy we always bring a change of trousers to the park, and I was delighted to find a clothes pouch in the changer pod – just perfect for packing away dirty baby clothes (or seriously muddy trackies).

PacaPod have considered our storage needs too, there are 3 'parent' pockets for wallet, phone, keys, emergency chocolate etc.

Other features include a clip so you can attach to the pram handle and a chest strap which works perfectly for when I am carrying baby in the sling.
Looks-wise, it is a stylish, uncomplicated rucksack with quality leather trims. It is deceptively spacious, and fits a good few changes of clothes and muslins alongside the pods.
I have had a few compliments on the bag from friends who were surprised when I told them it was a changing bag, and my husband thinks it's great too – I am planning to use it as a gym/laptop bag too, if he doesn't steal it off me!
[please note: I did get to keep this product]
- - - - - - - - - - - - - - - - - - - - - - - - - - - - - - - - - - - - - - - - - - - - - - - - - - - -
baby style file reviews...the bavetton...
My initial thought on seeing the Bavetton (a bib/tablecloth combo) was…'surely this is a super quick method for small children to throw their food on the floor?? (all it takes is a little tug!)' And so the kind folk at Bevetton sent me one to test out…and let me tell you my reservations were unfounded - it actually works a treat.

The Bavetton is a semi-circular tablecloth that drops down between the table and the highchair buttoning up at the sides to form a trough catching all the food that would usually end up on the floor. It then continues up fastening around the child's neck much like any other bib.

Having a dented dining table due to the toddler's experiments with cutlery and persistent cup bashing, I'm really grateful for the tablecloth part – it also makes cleaning up after meal times a bit easier (all you need to do is empty the collected food and wipe down the whole thing). The bib bit isn't the usual sleeved combo that I usually use but it did seem to stay on longer (I consider the toddler to be a bit of an expert in bib removal).

So, impressed by the Bavetton's effectiveness at catching stray food we took it with us on holiday - quite frankly holidays are too short to spend time fetching peas that have rolled underneath the furniture. The fact that it's wipe clean also comes in handy when holidaying without the luxury of a washing machine.

Not only useful at mealtimes, the Bavetton works well for (moderately) messy play too – we used it when playing with playdoh, crayons, pens and pencils…I think I'd still prefer to use a sleeved bib when painting though.
There was the odd tug at the bib by the toddler (some urges are too strong to resist it would seem) but nothing ended up on the floor. Happy days.
[please note: I did get to keep this product]
- - - - - - - - - - - - - - - - - - - - - - - - - - - - - - - - - - - - - - - - - - - - - - - - - - - -
baby style file reviews...plan toys musical band...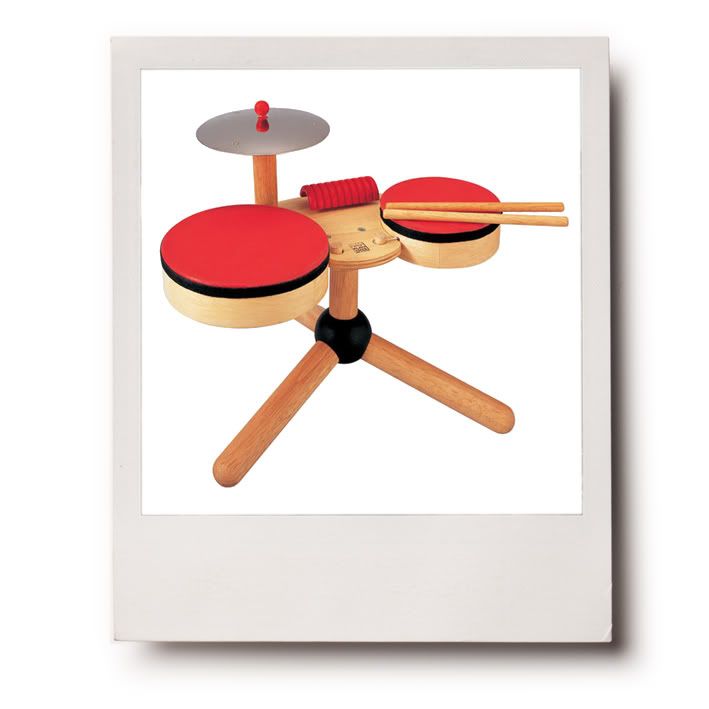 When VUPbaby asked if I'd like to test out the Plan Toys Wooden Musical Band, a part of me thought 'am I mad…a drum kit for a toddler…will the neighbours ever forgive me?' On the other hand, I thought - if nothing else - it would make for an entertaining review.
I should point out that the toddler is naturally quite musical (takes after his father) and often bops along in time to the beat…so a drum kit really seemed like the sort of toy that he might appreciate.
I was right (naturally!) In fact, he let out an audible gasp when we unwrapped it.
Super simple to put together, the kit comprises of two rubber coated drums, a cymbal and a guiro. I kid you not…the drums make a most pleasing noise when bashed by a small child and the whole thing is small enough to be tucked away when not in use (or carried from room to room by a drum-loving two-year-old).
The only thing that's ever so slightly irksome about this kit is that the toddler has worked out that by removing the cymbal there is a perfect hole in which to place a drumstick – resourceful but a tad annoying. On the plus side, the easy removal of both the guiro and the cymbal makes sharing with friends a whole lot easier – band practice has become a regular game in this house! Turns out I'm quite nifty on the maracas...and the drum kit is always the musical toy of choice for the toddler.
plan toys wooden musical band
, £33.99, VUPbaby
**for 10% off your first order from VUPbaby enter STYLE at the checkout**
[please note: I did get to keep this product]
- - - - - - - - - - - - - - - - - - - - - - - - - - - - - - - - - - - - - - - - - - - - - - - - - - - -
baby style file reviews...felt play sets...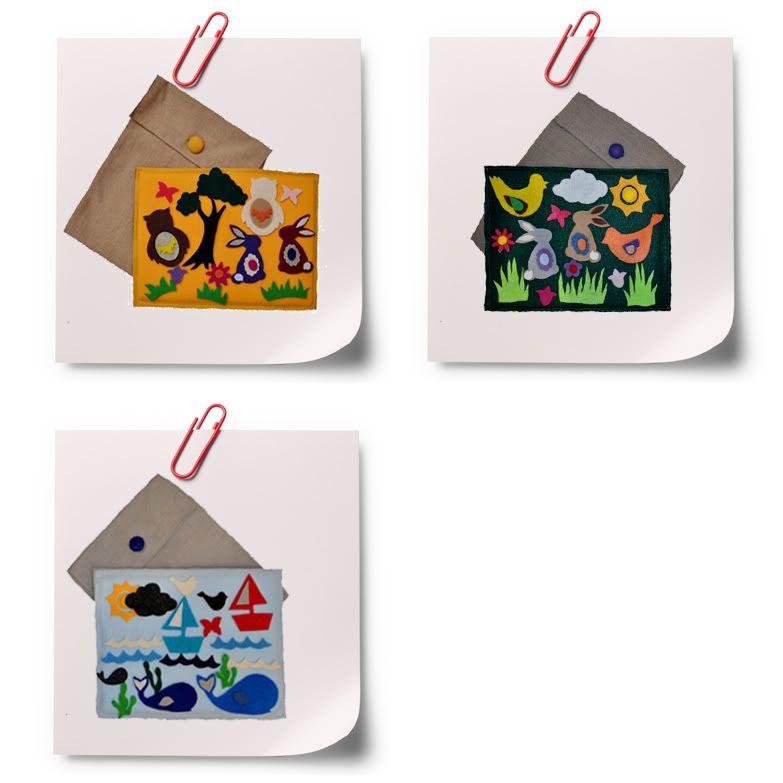 I do like a nice eco-friendly toy so when the lovely Lettie Belle sent the toddler a fuzzy-felt style playset made from eco-fi felt (felt made out of recycled plastic bottles, in case you were wondering) I was quite excited.

The handmade playset is available in a choice of three designs – 'Ahoy There!', 'Woodland' and 'Garden'. Each set comes with a variety of felt shapes for you and your child to arrange as you wish on the board. The toddler very much enjoys discussing each piece as we use it to tell tales of rabbits in trees and owls with flowers in their hair.

The whole package is lovingly handmade and comes in a very sweet (organic) cotton button-up bag to keep all the shapes safe. Super-lightweight and no bigger than an A4 pad – this is a great toy to pop into your out-and-about bag. It's a great alternative to stickers, with much more longevity!

It makes for an ideal mess-free toy that's perfect when you want to keep your child (reasonably) well-behaved in restaurants and on long journeys. *Sigh* if only all landfill could be this good.

'woodland', 'garden' and 'ahoy there!' felt play sets, £13.50 each, lettie belle
[please note: I did get to keep this product]
- - - - - - - - - - - - - - - - - - - - - - - - - - - - - - - - - - - - - - - - - - - - - - - - - - - -
baby style file reviews...happy hopperz...
The toddler has just turned two (happy birthday toddler!)

Having been invited to several kids' parties, I was fretting about what to do to celebrate. I didn't want to throw a massive party (I think he's a bit too little to appreciate/need any sort of formal entertainment) but I did want him and his friends to have fun. With bags of energy and a love of bouncing (the toddler not me) I had a bit of a eureka moment when I stumbled across Happy Hopperz. If you've never seen them before – think 1970s space hopper re-designed for little kids and with a hint of the Jeff Koons about them. These four-legged friends are low to the ground making them easy for little kids to sit on, with ears/horns to hold onto (or in the case of very little kids – to chew on!)

The lovely folk at Happy Hopperz kindly said they'd lend me a herd for the party. Lined up on the grass they definitely made it feel a bit more special than just another afternoon in the garden. It was very sweet introducing the toddler to them – naturally he offered food to each and every one of them before trying them out for size – his preferred bounce being a green horse.

It was interesting seeing a party of kids use them too – the bigger kids (3-5 years old) were a bit more capable of bouncing without falling off, the younger kids (1-2 years old) gave them a jolly good go, and if they couldn't quite manage to bounce they had fun taking them for walks, putting party hats on them... a few of the Hopperz even tried out the slide!

Most of the Hopperz at the party were cows or horses, and if I'm being shallow and going on looks alone the black and white cow is by far the most pleasing, but on a more practical note the horses seemed a little more stable on their feet. Head vs. heart, you choose…. (Although for toddlers I do recommend adult supervision at all times.)

Bouncy fun at a nice price – they'd make a super gift and the fun should last for a good few years.
happy hopperz, £21.99, happy hopperz
[please note: these products were loaned to me for review and then returned]
- - - - - - - - - - - - - - - - - - - - - - - - - - - - - - - - - - - - - - - - - - - - - - - - - - - -
baby style file reviews...a whimsy snak pak...
The toddler (like a lot of kids) is a snacker, and I (like a lot of parents) tend to spend my days out and about. This means several things…1) I have to carry a hefty supply of food around with me, 2) I have what seems like an infinite amount of raisins rolling around at the bottom of my bag, and 3) the environment is not being helped by my use of zip-lock bags.

So, you can imagine my delight when My Friendly Lunchbox offered to send me a Waste Free Lunch Kit. The kit comprises a recycled cotton bag with a super sweet rope handle, two stainless steel snack containers, a 'Food Kozy' (which is a washable plastic wrap in which to store your sandwiches/rice cakes that folds up and seals with a Velcro tab) and a matching cloth napkin. Like a pig in mud I tell you – this little kit made me very happy.

Initially I looked at the 'Food Kozy' and was puzzled how a sandwich would ever fit in it, but it does! And the lids on the stainless steel food containers are a bit on the stiff side - but this makes them leak-proof so that you can decant dips and yoghurts and spreads into them without concern. The bag is big enough to store food for the hungriest of kids but also a perfect size for little 'helpers' to carry all by themselves.

The whole kit is BPA, lead and phthalate free. It's also completely washable and will last well into the school years. Hurrah for well thought out eco-design.
[please note: I did get to keep this product]
- - - - - - - - - - - - - - - - - - - - - - - - - - - - - - - - - - - - - - - - - - - - - - - - - - - -
baby style file reviews...an aden+anais cosy sleeping bag...
The toddler is a muslin fan – always has been. He often walks around looking like Linus (the blanket dragging character from Peanuts). So when the lovely folk at Aden + Anais sent me one of their cosy sleeping bags, the toddler was over the moon. This is a sleeping bag made up of four layers of gorgeously soft muslin (aka. toddler heaven!) – he immediately demanded to try the sleeping bag on for size and proceeded to walk around the room beaming as he went. A very good start indeed.
I was immediately struck by just how soft the sleeping bag was, and having washed it a few times I concur that it does indeed get softer with every wash. Cosy as toast too (but in a nice airy non sweaty way) – and when the weather hots up a 'Classic' single layer sleeping bag is also available.

The zip on the sleeping bag closes from top to bottom in order to make night time nappy changes less disruptive. Great for smaller babies, but I have to say if like me you have a child who on waking stands up in their cot it does make it a little bit tricky to take it off without lifting them out of the cot first (not the end of the world I know.)

Another massive plus point is that this little sleeping bag comes with specific instructions telling you not to iron it. How perfect is that!
cozy sleeping bag, £29.95, aden + anais
[please note: I did get to keep this product]
- - - - - - - - - - - - - - - - - - - - - - - - - - - - - - - - - - - - - - - - - - - - - - - - - - - - -
When VUPbaby asked me if I'd like a Beaba Pixie light to test out I jumped at the chance - left slightly traumatised by the new year's eve fireworks my toddler had been regularly waking up shouting and pointing at the window (poor little thing). This combined with his utter obsession with torches led me to believe that this night light could be just the ticket!



As soon as I unwrapped this strange looking creature my child took it away and tried to feed it some of his toast - approval indeed.





After several attempts at charging it up (and discharging it) I finally got the light to last throughout the night (I discovered that the base likes to be tilted slightly whilst charging.) It now happily keeps going for over 12 hours before it needs recharging. The Beaba Pixie emits a soft glowy light - just enough to stop the scary pitch black that a blackout blind brings, but (thankfully) not bright enough to wake a sleeping baby.





This light is cleverly designed to act as a lantern too - easy to hold with its ergonomic handle (the funny looking green bit) and cool to the touch (it's LED) and I'm told it's 'ideal for toilet training at night time' although we haven't hit that stage yet! But the toddler does enjoy turning the light on and off and it does keep him happily occupied during the dreaded nappy change!





The only downside to this light and for reasons I can't quite fathom - you can't turn it on whilst charging. This basically means that you have to remember to charge it daily.





But the vital bit....the nightmares have stopped! so thank you little light and thank you VUPbaby.
beaba pixie night light, £29, VUPbaby
**for 10% off your first order from VUPbaby enter STYLE at the checkout**
[please note: I did get to keep this product]
- - - - - - - - - - - - - - - - - - - - - - - - - - - - - - - - - - - - - - - - - - - - - - - - - - - - -
baby style file reviews...the thermos foogo...
If like me you don't like having your out and about adventures limited by the baby's mealtime demands, then boy-oh-boy is this the product for you!

No longer will you have to seek refuge in a café and ask for a bowl of boiling water to heat your packed lunch. The Thermos Foogo food jar will keep your meal hot for 5 hours (or cold if you prefer – for 7 hours). It's a similar size to a mug, so plenty big enough for even the hungriest of growing kids, and should last well into the primary school packed lunch years (an investment buy indeed!) Stainless steel and free from over designed twiddly bits it's a doddle to wash up – it can even be popped into the dishwasher. (Although I do suggest storing it with the lid off to keep it smelling fresh.)

It's not just limited to out and about either - make a bit of extra food at lunchtime - pop it in here and hey presto the baby's dinner is sorted! And quite frankly anything that lightens the constant cooking demands gets a big thumbs up from me - just don't forget to pack a spoon!

Oh and just in case you're a blue for boys pink for girls kinda person it's available in both colourways too….
thermos foogo stainlesss steel food jar, £18.99, VUPbaby
**for 10% off your first order from VUPbaby enter STYLE at the checkout**
[please note: I did get to keep this product]
- - - - - - - - - - - - - - - - - - - - - - - - - - - - - - - - - - - - - - - - - - - - - - - - - - - - -
For me, choosing a buggy was like picking a style tribe. What sort of mother did I imagine myself being? Out-and-about urban mama? Off-road fresh-air-is-good-for-you mother? In the end, my decision was made by a process of elimination. I knew I wanted the option of my baby facing both inwards (for chatting) and outwards (for exploring the wider world); I wanted a buggy that would transform and grow with my baby (from fully reclining to sitting up); I wanted to be able to clip on a car seat and go; being able to fit into shops and onto buses was key (oh and a nice big shopping basket underneath). Another biggy was that the buggy had to fit into my car's very small boot.


The only pram that was left at the end of all this box ticking was the Bugaboo Bee.


As soon as I started using it I fell in love. The Bee is lightweight, slim and easy to push along with one hand (leaving the other free for eating/drinking/catching up with phone calls en-route to very important play dates). It also packs up small (and in one piece), so fits easily into the boot of my car. I rave about my Bee to anyone who will listen – and I have been told by several friends that they now suffer from buggy envy (a sad condition that can develop after childbirth).


So when Bugaboo contacted me and asked if I'd like to test and review the latest model Bee I jumped at the chance. And it doesn't disappoint. All the tiny niggles that the original Bee suffered from have been addressed. The newly designed straps sit totally flat against the baby, which I suspect is more comfortable for the baby and a bit safer if you've got a wriggler on your hands. The transformation from forward to rear-facing has been simplified (so you can flit between the two according to your/your baby's mood), the height-adjustable handle clicks into place making for a smoother adjustment. The seat back has the option of being even more upright (although my tip to you would be to fasten your child in at a less extreme angle and then adjust to this sitting position to avoid him/her slipping out).


The best bit of all – all buggy manufacturers please take note – is that the back is height adjustable (and with it go the straps) so with an effortless slide action the buggy will literally grow with your child. Giving the new Bee a fighting chance of lasting until your child hits the ground walking.


The only change for the worse is that the new Bee has developed a bigger price tag, with an RRP of £459 (not including the cocoon £67 or footmuff £89.99) and although there are cheaper buggies on the market - I still think it's well worth it!
the new bugaboo bee, RRP £459, bugaboo
[please note: this product was loaned to me for review and then returned]
- - - - - - - - - - - - - - - - - - - - - - - - - - - - - - - - - - - - - - - - - - - - - - - - - - - -